Sonic Adventure 2: Battle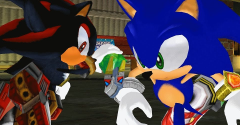 Characters

[8]
Non-Playable Characters

[1]
Enemies

[6]
Small Animals

[1]
Items

[10]
Objects

[4]
Chao World Objects

[20]
Chao World Rooms

[1]
Unused Models

[1]
Console
Genre
Developers
GameCube
Platformer
Developer coming soon!
Tags
Pending Models: 99

Amethyst Race Medal
Ancient Ruin
Apple
Aquamarine Race Medal
Back and Goal Ring
Bazooka
Beginner Race Medal
Biolizard
Black Shield
Blue Eagle
Blue Fruit
Booster
Challenge Race Medal
Chao Garden Entrance
Chao Karate
Chao Karate Bridge
Chao Karate Sliding Doors
Chao Kindergarden Entrance
Chao Lobby
Chao Lobby Exit
Chao Walker
Classroom
Construction Hat
Dark Chao Walker
Dark Chaos Chao Parts
Dark Garden Entrance
Dark Race Medal
Diamond Race Medal
Dynamite
Egg Beetle
Egg Shell
Emblem
Emerald Race Medal
Flame Ring
G.U.N. Board
G.U.N. Key Card & Card Slider
G.U.N. Phoenix
Gamecube
Garnet Race Medal
Gate Key
Gola
Grapes
Green Fruit
Health Center
Health Center Bed
Hero Chaos Chao Parts
Hero Garden Entrance
Hero Race Medal
Hero Seed
Jet Engine
Knuckles
Large Cannon
Master Emerald Piece
Memory Card
Meteorite
Mint Candy
Mushroom
Neutral Chaos Chao Parts
Omochao Theme
Onyx Race Medal
Orange Fruit
Pacifier
Paper Bag
Pearl Race Medal
Peridot Race Medal
Pink Fruit
Point Marker
President's Limo (Interior)
Principal's room
Protection Armor
Pumpkin
Purple Fruit
Purple Mushroom
Pyramid Cave Keys
Red Fruit
Rhino Jet
Rhino Metal
Rouge
Ruby Race Medal
Sapphire Race Medal
Shadow's Gold Ring
Shield Hunter
Skull
Smart Fruit
Sonic's Cell
Space Colony ARK
Strong Fruit
Sunglasses
Tasty Fruit
Tikal
Title Screen Logo
Topaz Race Medal
Toy Car
Transmission Disk
Triangle Seed
Upgrade Ring
Wool Hats
X Shooter
Yellow Fruit

Tagging is in the works and will be here soon!