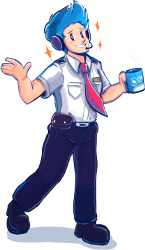 🎵
"I am ready! Come on, I'm ready! I've been patient and steadfast and steady!"
🎵
Hey hey heyyy, model rippers and icon onlookers! I hope everyone's ValenMonth is off to a soaring start! We've got a satisfyingly colourful line-up of models ranging from very old to very new with handfuls of little in-betweens.
Today's song reference is brought to you by Disney's Encanto – quite the

peculiar

quote to sing on this

particular

site, eh?
Let's see, here... in order from oldest to newest, we've got a Japan exclusive
Moomin
-based game whose source material dates all the way back to the year
1990
! Next up is a variety of different elements from
Super Mario Sunshine
, closely followed by
Postal
,
Shrek 2
(one of the greatest sequels ever, If I may add,) and
Jimmy Neutron: Attack of the Twonkies
. Talk about a throwback so far!
A
bit
of a time gap passes until we're face to face with the world of
Mario Super Sluggers
, which in itself is composed of both newly revised and recently submitted characters. Now hang on to your hats, 'cause we're taking a huge dive into the roaring
2020s
with
Genshin Impact
,
Disgaea 6
, and massive truckloads from
Ploaj
in
Pokémon Scarlet / Violet
!
Submitters, here's a tip from me: try out tMR's very own
Model Checker Tool
! This neat little functionality wrapped in HTML-based code can
help spot basic problems one may have missed
during the submission phase. Please note, however, that this is
not
an replacement nor a fast-pass for the approval process; it simply assists in discovering any catchable issues on the surface, or even some sneakily hiding in the background. The less avoidable errors, the faster the acceptance! One of the most common mistakes we've noticed are OBJ submissions lacking their respective MTL counterpart.
An OBJ requires its MTL file in order to know where to apply the model's textures
onto its meshes, so it isn't a file you should be tossing aside and discarding. Not only that, but the paths themselves should be working as well. The easiest way to check for yourself is by opening the model in your favourite 3D program. Otherwise, ah... the staff will have to generate one ourselves, heh! This can take a range of extra time – especially for larger submissions like locations and buildings. Thanks for your cooperation!
Just think, "What would dodos do?" Stay fresh, and stay off the hook!
3DS Models: 19
Browser Games Models: 3
Custom / Edited Models: 4
Dreamcast Models: 1
DS / DSi Models: 23
GameCube Models: 81 (50 shown)
Mobile Models: 43
Nintendo Switch Models: 337 (50 shown)
PC / Computer Models: 146 (50 shown, 4 hidden)
PlayStation Models: 3
PlayStation 2 Models: 5
PlayStation 3 Models: 8
Wii Models: 58 (50 shown)
Wii U Models: 7
Xbox Models: 9
Xbox 360 Models: 1