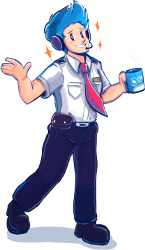 ♫ How do you like it? How do you like your
model
? ♫
Heyo, Centrixe here – your newly appointed staff member! It's such an incredible honour for me to be an official part of the tMr family! (And hey, whoever can guess or understand the song reference gets a cookie!)
So! We've got plenty of neat submissions in this month's update. A couple of highlights are Calling All Mixels, Lightseekers Awakening, Disney Infinity, Beastars, various Mii games, Paper Mario, and a ton of fashionable Nintendog items. We've also taken a blast to the past with a mix of 2000s favourites under DS / DSi, GameCube, and Nintendo 64. There's a handful of stunning new custom models as well, including Weegee and Speedrunner Mario! I highly recommend taking a look!
Submitters, here's a tip from me: if you use Noesis and your model's UV's seem to be flipped, more often than not, they're actually fine. Noesis displays meshes in the preview window this way because it expects the UV map to be facing the opposite direction. If you're still unsure, then whip up your preferred model program and import your export to ensure everything is functioning properly. Certain viewports may need to have the models rendered in order for you to see 'em. You should be doing this checkup either way - it'll make things much easier for everyone, I assure you! Good luck!
Just think, "What would dodos do?" Stay fresh, and stay off the hook!
3DS Models: 47
Arcade Models: 31
Custom / Edited Models: 14
DS / DSi Models: 107 (50 shown)
GameCube Models: 107 (50 shown)
Mobile Models: 147 (50 shown)
Nintendo 64 Models: 22
Nintendo Switch Models: 53 (50 shown)
PC / Computer Models: 95 (50 shown)
PlayStation Models: 8
PlayStation 2 Models: 11
PlayStation 3 Models: 49 (1 hidden)
Wii Models: 48
Wii U Models: 10
Xbox Models: 7
Xbox 360 Models: 7