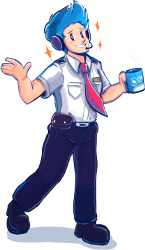 ♫
I'm on the right track, baby, I was

exported

this way!
♫
Happy Pride Month, everyone! We're already halfway through the year – that's kind of wild, huh? Fingers crossed that we all get the opportunity to enjoy a stress-free and colourful June! Here's a hint to the singer I've referenced: "There can be 100 people in the room-"
Looks as if the biggest contenders today are the Persona games! There's tons of outfits and accessories to choose from. We've got Code Vein, Temtem, Dark Souls, Lightseekers Awakening, Metal Gear, and a mix of Mii models from myself; mostly Miitopia! Some media related games have made their way into the update as well, consisting of Pixar and a handful of TV shows. (Digimon makes an appearance, too!) 21 neat new custom models are here, and my personal favourites have gotta be
Raymond
by
TheEnderDwonk
+
Starlow
by
None
! Don't forget to check out the other creations, if you'd like!
Submitters, here's a tip from me: when it comes to renders, transparency is your best friend. There shouldn't be any backdrop and the render shouldn't be cut out through a photo editor, either. Fortunately, most rendering programs have the option to enable "alpha transparency" for the background of your image to save you all of the hassle! For example:
Submitting a model with icons like the first two is
about
the same as submitting a model with no icons at all; they may have to be re-rendered by us regardless. However, it's not a requirement to submit a model with icons, so please don't feel discouraged from contributing! It's simply
encouraged
to render 'em if possible in order to help speed up the approval process. (On Blender, I believe the option to enable it should be in the "Render" tab, underneath "Film." Hope this helps!)
Just think, "What would dodos do?" Stay fresh, and stay off the hook!
3DS Models: 35
Arcade Models: 3
Browser Games Models: 8
Custom / Edited Models: 21
DS / DSi Models: 13
GameCube Models: 17
Mobile Models: 71 (50 shown)
Nintendo Switch Models: 55 (50 shown)
PC / Computer Models: 216 (50 shown)
PlayStation 2 Models: 12
PlayStation 3 Models: 7
PlayStation 4 Models: 1
PlayStation Vita Models: 299 (50 shown)
PSP Models: 30
Wii Models: 1
Wii U Models: 11