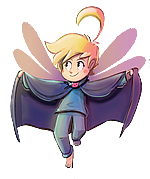 Another month of 2021 down already. This month has been very draining on all of us, so the update isn't as huge as usual. Still, there are plenty of submissions here, with Spectrobes being the most noteworthy collection. There are also a nice big batch of customs, with a whopping 10 high-quality models from
Lumpy Spirit
alone. Be sure to check them out!
I may as well copy Centrixe and put a tip here as well:
Don't save your icon-rendering setup in your main model file. Instead, have a generic icon-rendering scene that you can copy/paste models into.
This often leads to lights and cameras being included in the model file. This is especially a problem if you've had to move model pieces out of the way to make the render prettier. Having a separate scene prevents these kinds of issues and saves you time from having to set the render settings and lighting for every model.
We are still working hard on the huge backlog of submissions and exploring options to help speed up the process. We thank all of the submitters for their patience and understanding. Anyway, enjoy!
Arcade Models: 7
Custom / Edited Models: 18
DS / DSi Models: 64 (50 shown)
GameCube Models: 9
Mobile Models: 5
Nintendo 64 Models: 2
Nintendo Switch Models: 5
PC / Computer Models: 74 (50 shown)
PlayStation Models: 9
PlayStation 3 Models: 6
PlayStation 4 Models: 4
Wii Models: 1
Xbox 360 Models: 3