Models Among Us
(1)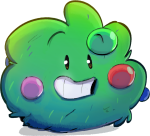 Howdy y'all, RTB here again bringing you today's triple update (check out The Spriters/Sounds Resource, too!). While there's not as many models in this update compared to previous ones, we're picking up the pace with our ever-expanding queue. Perhaps next time we'll have an even bigger selection?
The Mobile department's been getting a lot more attention recently, it seems, as a good chunk of today's update comes from 'em, including both Marvel and DC (Future Fight and Injustice) and a pair of runners (DoofenDash and Subway Surfers). There's even the base player models from Animal Crossing: New Leaf and Stone Luigi -- sorry, Rock Luigi (and Mario!) from Galaxy 2!
Until next time! Maybe I'll have a buncha submissions myself in the next update?