Four times the update, four times the fun!
(7)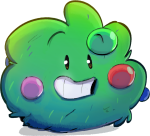 Howdy! RTB here again, climbing out from under the rock I've been living under to bring you not one, not two, not five, but four updates at once! (Check The Spriters/Textures/Sounds Resource, too!)
Although not as large as the update last time (or the one before that from myself), we've still got a nice selection, including a bunch of customs from Sope, MrPr1993, Curious Villager and our very own Peardian, and a buncha rips relating to Dragon Ball Z, Metroid Prime, Sonic and Rare's N64 classics. And Pokémon, everyone loves Pokémon (except for the ones that don't).
Until next time!