What You Ripping For? ♪

(10)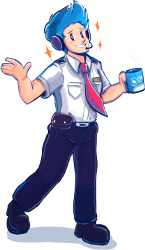 ♫ Whatcha
rippin'
, whatcha
rippin'
, whatcha
rippin'
, whatcha
rippin'
, whatcha
rippin'
, foooo-oooor? ♫
Song reference aside, anyone wanna share their story on how they got into models? My own began in 2009 with MySims; changed around some XML's which accidentally caused Sims to T-pose, and that's where my interest for 3D graphics started. It'd take nearly a decade, but I'd managed to rip all of the characters for the computer game in honour of that moment!
The update for this last month is bringin' us Rune Factory, Temtem, and even the Windows 10 edition of Minecraft – can you believe it?! We've also received a fair share of Fist of the North Star: Legends ReVive, The Simpsons Game, Pokémon Channel, Hatsune Miku: Project DIVA Mega Mix, and upgraded Naruto to Boruto: Shinobi Striker models. A handful of snazzy new customs are in stock, too; check out this neat
Dreamcast Magazine Sonic
by SegaSonic04, for instance!
Submitters, here's a tip from me: "
The two main model formats accepted by the site are OpenCOLLADA (.DAE) and Wavefront OBJ (.OBJ). Every model in the submission must be available in at least one of these two formats.
" I know, I know, FBX may seem like the optimal way to go at first, but DAE is one of the two main model formats that we accept. Plus, it's widely supported in comparison to FBX. We would prefer rigged DAE models, but if you can't rip the model with its bones in-tact or the available tools simply don't support it at the moment, you'll always have the option to submit it as an OBJ! For more information, please refer to our handy-dandy wiki page:
What Makes A Good Submission / The Models Resource
. Have an amazing rest of the year, everyone!
Just think, "What would dodos do?" Stay fresh, and stay off the hook!